Heart-Centered Energy Healing
Heart-Centered Energy Healing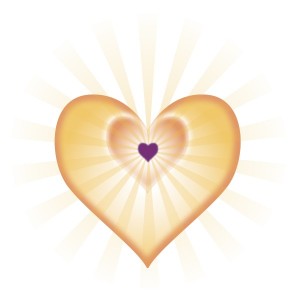 My daily practice for over ten years is heart-centering.  I use this as a daily ritual, which helps me to center and open, connecting with the Divine, with my inner guidance and with the heart center – where all is welcome, where the energy of the upper and lower chakras meet and there is no judgment.  I also use it when I'm in a situation where I feel off-balance, or fearful,  or where my ego/emotional self is in control, in a way that is not serving me. It always brings me back to the heart center, to a place of calm, compassionate, grace.
I love this practice because it is simple, anyone can do it, and it is very powerful and effective.
Begin by placing your right hand over your heart chakra and place your left hand over your right, with your thumbs meeting above.  See and feel your crown chakra open, at the top of your head, connecting with the divine energies of the sky, the heavens, the cosmos, the masculine…and now see and feel your root chakra open, at the base of your spine, connecting with the divine energies of the earth, the feminine/nurturing aspects.  Bring these divine energies up from the earth and down from the heavens into your body, meeting at the heart and then flowing down your arms and out your hands.  It then flows back into your heart in a beautiful circle…You can also visualize this energy flowing out your hands to others around the world, or place your hands on another person's body to send them this healing energy.
The mantra to focus on while doing this are the four qualities of the heart center, as taught to me, and countless others by Dr. Brugh Joy:  Supernal Compassion, Innate Harmony, Healing Presence, Unconditional Love and Selfless Service.  Simply repeating these words, contemplating their truth, and bringing their essence into your being will change your experience of life.
https://luminousadventures.com/wp-content/uploads/logo.png
0
0
Lucia Maya
https://luminousadventures.com/wp-content/uploads/logo.png
Lucia Maya
2012-01-10 19:28:25
2012-01-10 19:28:25
Heart-Centered Energy Healing